Karien van der Sandt Audiologists - Exclusive Audiology, Port Elizabeth, Grahamstown, Eastern Cape, South Africa

Thank you for visiting our advert. We trust to provide you with a basic knowledge into the practice of Audiology. Whether you suspect that you might have a hearing loss or whether you are referred for a hearing assessment/test, the idea itself is often daunting. It is therefore imperative that you see an Audiologist who is not only professionally trained but also has an understanding of the process and potential impact a hearing loss can have on the individual and his/her family. Being one of the fastest growing professions in awareness and technology, there are various options available for dealing with hearing loss, whether the loss is conductive or sensory.

Hearing aids and assistive listening devices are opening a world of possibilities for the person, child or adult, within the world of hearing loss that so many misunderstand. The stigma around hearing aids is now making place for a greater awareness about hearing protection against noise damage, the importance of being able to communicate in the working environment and the early detection of hearing loss in infants to ensure normal communication, emotional and social development.
ABOUT US
The Practice was established in March 2007 and was initially based in Albert Road, Walmer.
In February 2008 the practice was moved to the newly built Intercare Medical Centre in King's Court.
In 2009, a satellite branch of Karien Fourie Audiologists opened in Grahamstown.
July 2014 marked a new era for us when our name changed from Karien Fourie Audiologists to Exclusive van der Sandt Audiology.
In September 2015 we have relocated to our new address, 45 Lloyd Road, Walmer.
At our practice your individual hearing needs will be met in a personal and professional manner. We strive to provide a comprehensive service of excellence in improving the daily quality of people's lives.
OPENING HOURS

Port Elizabeth:
Mon - Thurs 08:00 - 17:00
Friday 08:00 - 16:00
Closed on Saturdays, Sundays and Public Holidays

Grahamstown: Please contact practice to schedule appointment. Tel no: 041 581 1463 / 53
SERVICES OFFERED
Paediatric Hearing Screenings and Diagnostic Hearing Assessments (Newborn Babies, Infants & Children)
Objective tests include Oto-Acoustic Emission Testing, Auditory Brainstem Testing and Tympanometry. Behavioural testing includes Conditioning Play Audiometry, Visual Response Audiometry, Pure Tone Audiometry, Speech detection and Speech discrimination testing.

School Hearing screenings
Due to the fact that objective tests are being used, hearing screenings at schools are not limited to pre-primary age. Children of all ages can be screened. These screenings are performed at schools and are not limited to the amount of children in the school.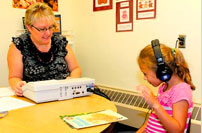 Diagnostic Hearing Assessments for Adults
Assessment includes Otoscopy, Pure Tone Audiometry, Speech Audiometry, Bone Conduction, place of lesion testing including Oto-Acoustic Emission testing and Acoustic Reflex testing. Auditory Brainstem testing for adults are also available.

Industrial Hearing screening
Including Baseline testing, entry audiograms and exit audiograms. These tests are performed at the practice. On-site testing not possible.
Hearing Protection
Including custom-made ear protection (Noise Clipper/Variphone) most commonly used in factories; Music plugs for musicians with options for different filters; custom-made shotgun protection for hunting and professional shooting; custom-made ear protection for motorbikes.

Custom-made swimplugs
Also used for children with grommets.

Central Auditory Processing (CAP) Assessments

This test is performed only by an Audiologist in a sound proof room using calibrated sound through a two-channel audiometer. CAP assessments can be performed from age 4 years through to adult age. A full diagnostic test battery is available as well as full therapy program. The assessment is preceded by a hearing assessment and a full case history of the child or adult's current performance and problem areas experienced as well as previous and other current interventions. Therapy is supported by recommendations for home and environmental management, teaching of compensatory strategies, classroom management and recommendations for classroom placement.
This testing is performed at our premises by an Audiologist from Graaff-Reinet, Izienne Van Jaarsveld whom travels to Port Elizabeth to perform the tests.
Appointments must be scheduled directly with Izienne Van Jaarsveld: 082 856 3654 or iziennevj@gam.co.za
Auditory Brainstem Testing (ABR)
This test is performed on infants, children and adults. This test is used when a hearing loss is suspected but accurate behavioral results cannot be obtained either due to the child's age, physical ability to perform the test or due to unreliable responses. It is further used as part of the assessment for Auditory Neuropathy Disorder, Central Auditory Processing Disorders and during medico-legal assessments when necessary to support behavioural findings. The equipment is mobile and the test can be performed at the practice, in theatre and NICU's or even at a patient's home.

Oto-Acoustic Emission testing (OAE)
The OAE test provides objective information about the functioning of the outer hair cells of the cochlea. It can be performed hours after birth. A miniature earphone and microphone is placed in the ear; sounds are then played and as response are measured. If a baby hears normally, an echo is reflected back into the ear canal and is measured by the microphone. When a baby has a hearing loss, no echo can be measured on the OAE test. This test is also useful during school screenings, adults with tinnitus, adults working in noisy environments, diagnostic hearing assessments of young children and adults as well as part of place of lesion testing.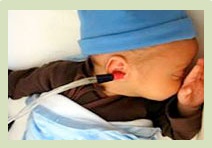 Tympanometry
The purpose of tympanometry is to determine the point and magnitude of greatest compliance (mobility) of the tympanic membrane/eardrum. The results provide important information about middle ear function and helps detect different conditions and diseases of the middle ear. (Shipley & McAfee; 1998). This test can be performed as part of a test battery or as a routine assessment of the middle ear's functioning, especially for children who had previously received grommets. This test is also used during school screenings.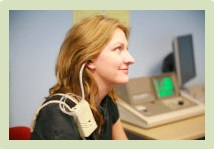 Eustachian Tube function
The procedure for the performance of this test is similar to that of tympanometry, except that the change in pressure in the middle ear is measured during swallowing and equalization.
Hearing aid recommendations and assessments for candidacy
Hearing aids are very specifically chosen according to each person's hearing test results or hearing abilities, daily needs and function at work or socially as well as financial capabilities. The Audiologist should inform each client of various options available, including the model of the aids, size, technology and colour. Each client should know exactly why they are given a specific hearing aid.

Hearing aid fittings
Hearing aid fittings consist of the initial fitting, as well as two-three follow-up sessions where fine tuning of the sound may be required. It may be beneficial to bring along a family member who can help listen to all the information and provide emotional support. The initial fitting session involves an explanation of how the aid works, how to change batteries and how to maintain it. The fitting is computer-based and performed according to the client's hearing test results and specifics of the aid. The session can take up to an hour and apart from all the information given to the client, is quite daunting as there will be many sounds the client will hear that he/she has not heard in a very long time.

Hearing aid follow-ups, adjustments and fine tuning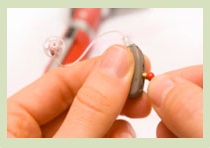 Hearing aid minor repairs and troubleshooting.
All other repairs can be sent to the relevant company.

Sales of general hearing aid accessories including batteries, dri aid capsules, cleaning tools.

Hearing aid performance assessments in free field including functionality in noise.
Tinnitus management and rehabilitation
Grahamstown Practice
Google map
GPS Coordinates: -33.302089, 26.514471