Welcome to Widex SA
About us
Widex is one of the world's leading companies within digital hearing aid technology. Today, our hearing aids are sold in more than 90 markets around the world, with 97% of our output exported from Denmark. With a world market share of approximately 10%, we are the world's sixth largest manufacturer of hearing aids.
Focusing on the individual
Our hearing aids help people with hearing loss to communicate better - something which is of immense importance to their quality of life. We also place great emphasis on the area of children and young people with hearing loss, as early intervention is important for their language development.
Innovation is our driving force
Widex is based on know-how, as represented by our innovative staff and five decades of intensive technological research and development. We develop digital technology at a level of quality that few can match, and which has made us one of the most innovative manufacturers in the industry.
In 1995 Widex became world-famous when it introduced the world's first digital in-the-ear hearing aid, and the pace of progress has been swift since then. With our latest top-of-the-line product, Inteo, Widex is setting entirely new standards and charting new possibilities within hearing aid technology - all with the aim of improving the quality of life of people with hearing loss.
Milestones
Widex has a long tradition of being at the forefront of ground-breaking technology. These are some highlights from our history of innovation:
2018
WIDEX EVOKE: The world's first machine learning hearing was launched, this hearing aid is based on an advanced, dual-core chip, which delivers both intelligent automation and intuitive user control. It leverages machine learning to create the best real-life listening experience
2016
WIDEX BEYOND: The world's best sounding made-for- iPhone hearing aid was launched
2015
WIDEX UNIQUE: the new hearing aid series which takes digital processing to a new level to capture more sound than any other hearing aid on the market.
COM-DEX: a new stylish, hands-free communication accessory that streams high-quality sound from mobile phones to hearing aids.
FASHION POWER: a new power BTE designed to provide powerful audibility without compromising sound.
2014
WIDEX EASYWEAR: a unique wire and receiver ear-tip solution for RIC/RITE hearing aids.
DREAM CIC MICRO: an ultra-small Completely-in-canal (CIC) hearing aid for the ultimate in discretion.
UNI-DEX: a new neck-worn and hands-free device that streams audio from mobile phones (or any audio device) to user's hearing aids.
2013
WIDEX DREAM: A new family of hearing aids with the absolute latest in advanced hearing aid technology. DREAM sets nothing less than a new standard in hearing aid performance.
2012
ZEN2GO: A new tinnitus management device that plays random, soothing harmonic tones called ZEN.
IIC: The ultimate invisible in canal hearing aid with no joined parts or hard edges - a truly invisible solution.
2011
WIDEX SUPER: World's first receiver-in-the-ear (RITE) super power hearing aid.
2010
WIDEX BABY440: World's first hearing aid designed specifically for babies.
2009
CLEAR440: Widex' first completely wireless hearing aid.
WidexLink: Proprietary wireless technology designed specifically for hearing aids.
DEX assistive listening devices: A range of wireless accessories that connect hearing aids to mobile phones, televisions and audio, remote controls and landline phones.
2008
Passion: World's smallest RIC hearing aid - only 21 mm in diameter.
mind440: The first hearing aid with the revolutionary ZEN tones that help users relax and have been proven to help in managing the effects of tinnitus.
NanoCare: a unique, Widex patented wax guard system based on nano technology which enhances the performance of hearing aids and increases their lifecycle.

2005
Inteo: World's first hearing aid giving a tailor-made sound experience.
1995
Senso series: World's first fully digital in-the-ear hearing aid – no less than a revolution. In 2005, CNN lists modern, digital hearing aids as one of the top 25 innovations of the past 25 years.
1990
CAMISHA: (Computer Aided Manufacturing of Individual Shells for Hearing Aids): a groundbreaking, Widex-patented technology based on computer modelling and laser technology. CAMISHA transforms the way shells, earmoulds and earpieces are made across the entire industry.
1988
Quattro Q8: First digitally programmable hearing aid with remote control.
1956
Widex 561: Widex' first hearing aid - an elegant pocket model
Background
Widex was founded in 1956 by the Tøpholm and Westermann families, who still own and run the company. Widex now employs around 1,850 staff around the world, of whom 900 work in Denmark. Our head office is located in Lynge, Denmark, which is where our research, development and administration is based, as well as most of our production. Widex also has large assembly departments in Helsinge in North Sealand and in Verviers, Belgium.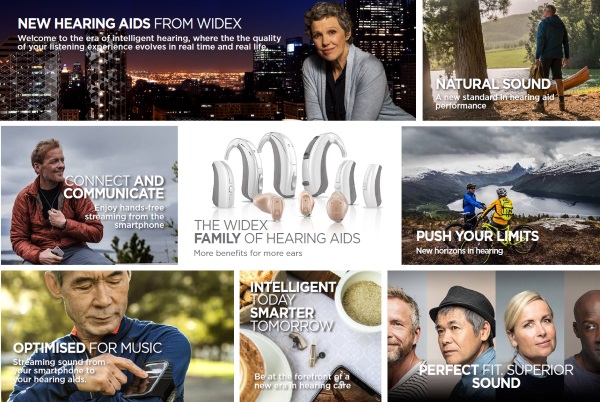 Directions to our offices:
From Southcoast Road:
Head southwest on S Coast Rd/M30 toward S Coast Rd
Turn left to merge onto Outer Ring Rd/N2
Take exit 174-Durban for Nandi Dr toward M45
Turn left at Nandi Dr/Queen Nandi Dr/M45
right at Hippopark Ave
Turn left at Island Rd
Widex Is the first building on your right

From Northcoast Road Mt Edgecombe:
Head south on N Coast Rd/R102 toward Hillhead Dr
Slight left at Queen Nandi Dr
Turn left at Hippopark Ave
Turn left at Island Rd
Widex Is the first building on your right