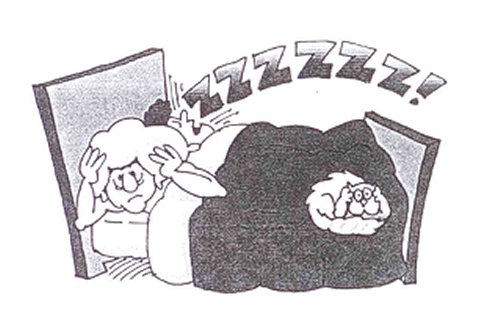 This article is courtesy of Dr. John Steer.
Sleep disturbances, which include Obstructive Sleep Apnoea and Snoring, are being increasingly realised as significant dangers to health. As such an enormous amount of investigation has and is taking place. It's well documented that although the actual mechanisms by which sleep restores one... the brain is after all active while you're asleep... it is generally acknowledged that 8 hours is the basic requirement for us to wake refreshed.

When we fall asleep we lose muscle tone with the result that the upper airway essentially "collapses." Many factors are involved and obstruction can take place at a number of levels.

In the case of simple snoring it's largely the bed partner who suffers. This can be to an extreme degree with, on occasion, breaking up of a partnership and often needing to sleep in a separate room. The treatment for snoring varies from medical to surgical or a combination. A full examination by an ENT specialist of the mouth of the surrounding areas is absolutely essential for an assessment. Equally important is the sleep partner's attendance at the consultation.



OBSTRUCTIVE SLEEP APNOEA

This is a progression of snoring. In the former the patient doesn't stop breathing, whereas in apnoea, this by definition occurs. During this period the level of oxygen in the blood goes down and the carbon dioxide level rises which stimulates the breathing centre.

It's thus obvious that if you have repeated episodes of apnoea and a drop in oxygen levels in the blood, you're going to end up with increasing symptoms.
SIGNS AND SYMPTOMS OF OBSTRUCTIVE SLEEP APNOEA

Chronic fatigue

Excessive daytime sleepiness

Sudden waking, gasping and choking

Poor concentration and reduced work performance

Impotence

Significantly more driving accidents

Morning headaches



CONTRIBUTING FACTORS

Obesity

Alcohol consumption

Use of sleeping tablets

Use of tranquillizers



DIAGNOSIS

The first thing to do is to consult a doctor who understands the head and neck. This is usually an Ear Nose and Throat specialist. It's always a good idea to bring your partner along to give input into your symptoms.

After examination of the head and neck a sleep study is done to acquire the information as to exactly what occurs while you're asleep. Without a sleep study one cannot arrive at an accurate diagnosis.



HOME BASED SLEEP STUDY

To measure exactly what is happening during your sleep a home based study is carried out. Jeanette Farrell a highly trained nursing sister is an expert in this field and runs the home based sleep study group. She'll explain exactly what the study involves and with the results, she and I will be able to give you a comprehensive diagnosis and offer treatment suggestions.



TREATMENT

Although, in some patients surgery has a part to play, most cases of significant Obstructive Sleep Apnoea benefit from a nasal CPAP mask and machine.

This consists of a snugly fitted mask, which when worn over the nose and connected to a machine delivers air at constant pressure, thus splinting your airway open. The obstruction is relieved and significant Audemars Piguet Royal Oak Replica reduction in symptoms produced.



THE BENEFITS OF TREATING OBSTRUCTIVE SLEEP APNOEA

Relief of snoring and obstructive apnoea

Improvement in sleep quality

Relief of daytime sleepiness

Reduction of cardio vascular risk can occur in both moderate and severe sleep apnoea cases



COMPLICATIONS OF OBSTRUCTIVE SLEEP APNOEA

Excessive daytime sleepiness

Cardio vascular disease

Stroke

Hypertension

Mood and personality disturbances